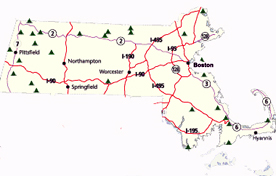 Massachusetts State Parks Terrain
There's a wide variety of terrain from the Cape Cod sands and ocean beaches to mountainous areas.

Altogether there are well over 3,500 sites situated on Massachusetts State campgrounds during the year

Horseneck Beach in Westport and the beach parks on Cape Cod are great beach camping areas

In a couple of hours you can go from pine forests of Cape Cod to deciduous treed areas of eastern, central and western Mass.


Off site activities are numerous and include many historic sites. Massachusetts was first colonized in 1620.

The areas often offer cabins, and the campgrounds vary from primitive with no amenities to full service RV pads.

Some Massachusetts State parks have boating, fishing and swimming etc..

There is always something to do with various activities for all ages.

Sometimes it's just nice to sit in your campsite in the fresh air and chat with your friends and family, read a book or take a nap.