Wear A Helmet
Besides saving your life when you land on your head it keeps rain off of you.


A few years ago a driver slammed on his brakes in front of me, and I was a bit too close behind him, I keeled over on a rain soaked highway and a helmet saved my life.

I landed on my head and somersaulted head first a few times before ending up splayed out in the oncoming traffic lane.

Obviously I didn't get killed so I am still alive and well here to warn you about wet roads and helmets.

Motorcycle Boot Covers
There are some nice waterproof riding boots but some folks also like to use boot covers to protect from the rain soaking into the shoes or boots.

The image here is of the NELSON RIGG Waterproof Rain Boot Covers.

Nothing beats being dry in the lousy weather.
Motorcycle Riding Gloves
Wet hands and the wind blowing on them as you ride along can make for a chilly miserable ride.

When your hands get cold as they do riding in the rain, you have less ability to control them, and the fingers get sluggish.

Wear waterproof gloves. I like my winter gloves that have a large gauntlet that covers up about six inches above my wrist.
Extra camping tarp:
Image below:

This was mentioned on the camping page, but it's a reminder.

By using an extra tarp that extends out front and over your tent, you can have a dry area in which to walk about.

It also provides shade and is an extra barrier from the rain on your tent. I have had a tent leak at night, and it is aggravating.

Be sure to have it set up at an angle so that the rain will not collect and fill it up in the middle.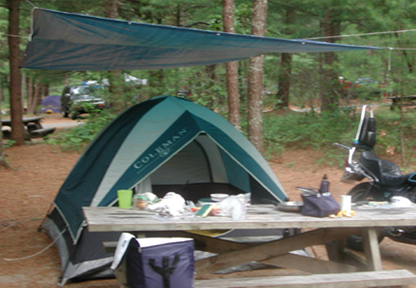 The motorcyling face shield
Is a great comfort when you are being pelted in the face with rain.
The faster you go the more it hurts.

Of course, you have to wear eye protection for starters.
I tucked my microphone up under the shield shortly after the picture was taken. Keep it dry.

When you are riding with a pal, it is great to use the CB's to co-ordinate the trip as you go along, and warn the rider behind of any problem ahead.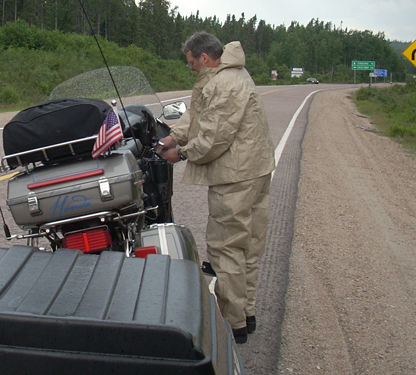 Full Suit Motorcycle Rain Gear:
The rain had just started, but we expected a downpour, so we suited up.

Here, Monsieur Dube has a matching rain suit.
He's so coordinated and stylish.

Ask him and he'd say it's practical. He's right as the pants are a bit long to cover your boots and close tight at the bottom.

The sleeve cuffs are elastic to keep the rain from driving up your arm as you ride along.

The hood is added protection as you can cinch it up close around your face and keep wind driven rain out.

You can get full suit rain gear at various stores. Some riders like the Frog Tog brand.