Ground Cloth
If you are using a tent, a waterproof ground cloth under it will really help.
If should be a little smaller than the footprint of your tent floor.

If you are camping with just a fly, then you really do need one to keep the moisture away from your body and protect you from rain.

It's a good idea to consider the ground where you put your tent or fly to avoid getting wet from rainwater pooling or running in a stream through your bivouac.
Sleeping Bag VS Blankets:
Just for kicks imagine if a bear comes sniffing around and you are in your sleeping bag all stuck in there and can't get out quickly at all. This happened to me camping in the mountains of northern New Mexico.

In the pouring rain at night, a bear poked his front end into the opened tent and stepped on my foot. I will never forget that.

He turned and started working on getting my food down from the tree where I had stashed it to keep it away from bears!

The SOB got my candy bars after all. They were all melted anyway.

The point is if you are in a sleeping bag you are quite defenseless.

Bear spray and blankets that you can throw off of you in a quick second are better.

That's my opinion anyway.
Extra camping tarp:
In the picture on the right, you can see how by using an extra tarp, you can have a dry area to walk about.

It also provides shade and is an extra barrier from the rain on your tent. I have had a tent leak at night, and it is aggravating.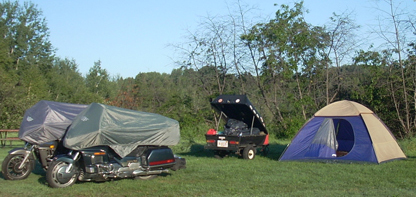 Above - A 4 person tent
It's comfortable for two people.
I camped here with my buddy, and we are both rather large.

This gives you room to stretch out.
Again you can have two people in the tent and room for gear, as well.


- - - - - - - - - - - - - - - - - - - - - - - - - - - - - - - - - - - - - - - - - -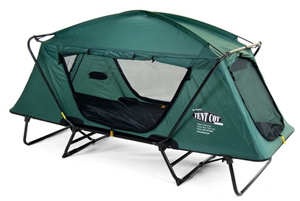 The Kamp-Rite double tent-cot
Pictured above is great if you have a trailer to carry it.

The double is pictured here, and you better check the width and weight before you buy it.
They have a rain fly that covers the whole thing as an extra protection.

Kamp-Rite sells a nice single tent cot that is narrower, and might fit into your trailer easier. I like the quick set up time in the event of bad weather.